About Dr. Rachel Mindin
Rachel Mindin has been a part of the New York Laser Vision team since 2014, when she started as an ophthalmic technician. As an optometrist, Dr. Mindin now provides multidisciplinary eye care to the patients of New York Laser Vision.
She specializes in the treatment of Dry Eye Disease, offering a unique approach to patients who suffer from eyelid inflammation and dry eyes, and emphasizing preventative care for her patients with diabetes, macular degeneration, and glaucoma, to prevent vision loss.
Her thorough approach to contact lens and glasses fittings ensures comfort and optimal eyesight for our Manhattan & Brooklyn patients, and Dr. Mindin prides herself on providing outstanding personalized eye care to each patient through focused attention, thorough patient education, and individualized treatment plans. She is fluent in English, Russian, and conversational Spanish.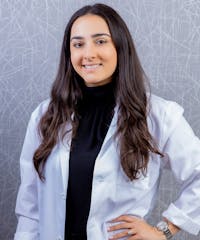 Education
Dr. Rachel Mindin is a native New Yorker. She graduated from Stony Brook University at the top of her class with cum laude honors, earning a Bachelor of Science degree in psychology. Dr. Mindin continued on to receive her doctorate in optometry from the State University of New York College of Optometry. During her time in optometry school, Dr. Mindin took a special interest in volunteering in underserved communities.
She has attended many vision screenings throughout the New York City area and has volunteered with the Eye Health Institute providing eye care in Negril, Jamaica. Dr. Mindin completed her optometric clinical training at Downtown Eyecare, Gouverneur Health Hospital, and the New York Eye and Ear Infirmary of Mount Sinai. There, she received extensive training from prominent ophthalmologists and optometrists in the field in the areas of glaucoma, retina, cornea, surgical comanagement, uveitis, and neuro-ophthalmology. After her extensive training, she happily returned to working with her New York Laser Vision family as an accomplished optometrist.