One of the most common visual problems that exists, myopia can be a serious problem that comes with quite a significant negative impact on one's life. By preventing an individual from being able to see anything that isn't close up to the face, myopia (also known as nearsightedness) can cause serious health issues, while also making day-to-day life unnecessarily difficult and aggravating.
Myopia tends to set in relatively early in life, developing during childhood or at some point in adolescence. As the signs and symptoms aren't always quite so serious at first, myopia can actually be a somewhat easy problem to miss. The real danger, however, comes from the fact that if left untreated, myopia can progress, becoming much worse and causing serious vision problems later in life.
At New York Laser Vision, we offer a series of treatments that can help to control and slow the development of myopia, allowing you to live life to the fullest and enjoy the highest possible quality of vision. Reach out to us today, to learn more about how we can help you manage myopia, and prevent it from becoming a major problem.
What Exactly Is Myopia?
Sometimes commonly referred to as "nearsightedness," myopia is a visual condition that causes an individual to be unable to see anything that isn't close up to the face. For most, this manifests itself as the need to squint, any time something is being looked at from any kind of significant distance.
The exact cause for myopia isn't exactly known, but it is understood to be a genetic issue. During the developmental years, the eyes undergo a relatively massive amount of growth. In some individuals, this growth can cause the eye to actually grow in a way that results in too much distance between the front and back of the eyeball. This lengthened shape causes difficulty in the vision, distorting it and making objects difficult to see when they're not up close.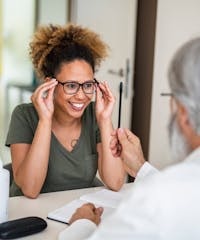 Some of the most common indicators of early myopia include:
Headaches from straining to see
Persistently blurred vision
The inability to see things that aren't close
Ineffective glasses or contact lenses
The need to squint frequently
Certain mild cases of myopia might not actually require that any corrective measure be taken. More severe cases, on the other hand, might require a solution like corrective lenses, or LASIK eye surgery to fully restore the vision.
Myopia Correction in Manhattan & Brooklyn
at New York Laser Vision
New York Laser Vision offers a number of methods to control and correct myopia, and our highly-trained staff will happily help you by designing a treatment plan that is customized to your specific needs, and built to help restore your vision so you can enjoy life once more.
Every patient's experience with myopia is different, so we'll test your vision quality in order to figure out exactly what type of solution might be right for you. Our myopia control programs are designed to help slow the progression and development of myopia, helping to preserve your vision and preventing the issue from getting worse over the years.
In some cases, corrective surgery might be the best solution. In others, prescription lenses might do the trick just as well. We'll work closely with you to design a treatment plan that meets your specific needs.
If you've been battling nearsightedness and experiencing vision problems related to the inability to see objects at a distance, you might be suffering from myopia. Reach out to us at New York Laser Vision today, and learn about how our myopia control treatment can help you restore your vision and live your life to the fullest.