Dr. Selena Huang is a residency and fellowship-trained optometrist who specializes in fitting specialty contact lenses for complex diseases, dry eye syndrome, and corneal reshaping therapy (orthokeratology) for myopia management.
Education
Dr. Huang completed her bachelor's degree in Medical & Molecular Biology at MCPHS with honors, and then pursued her Doctorate of Optometry from the Accelerated Program at Pennsylvania College of Optometry, graduating with magna cum laude honors.
She continued her post-doctorate residency and fellowship training in Seattle in the evaluation and fitting of specialty contact lenses for high prescriptions, corneal degenerations and irregularities (such as keratoconus), multifocal lenses, corneal reshaping therapy (orthokeratology) for children and adults, and solving visual problems after eye disease or surgery. She is also the recipient of the Cooper Vision Excellence in Contact Lens Award. Dr. Huang is an active member of the Beta Sigma Kappa Honors Society, American Optometric Association, and New York State Optometric Association.
Dr. Huang is a Native New Yorker and enjoys spending time in a bustling city. On her days off, Dr. Huang enjoys spending time with her dog Max, traveling as well as hiking and snowboarding.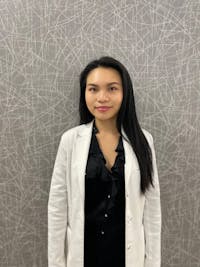 Speaker for:
Specialty Eye Expo October 2021 - Present
Global Specialty Lens Symposium (GSLS) Winter 2019
Publications in:
Membership in:
American Optometric Association
Phi Kappa Phi Honors Society
Awards
Cornea, Contact Lens & Refractive Technologies Travel Grant 2021
Cooper Vision Excellence Award in Contact Lens