Meet Dr. Wang
"Quality of vision and quality of life go hand-in-hand."
I love optometry because I can make a direct impact on patients' lives. Modern technology allows me to design specialty contact lenses to fit the shape of your eyes, providing sharper and more comfortable vision.
Whether your goal is to be glasses free or because glasses no longer provide good vision due to an underlying corneal condition, our team is here to help.
Focus and Specialties
Dr. Wang focuses on specialty contact lens fitting and myopia management, interventions for controlling nearsightedness include orthokeratology (Ortho-K), soft multifocal lenses, and atropine, in addition to managing moderate to severe dry eyes with therapeutic scleral contact lenses.
Dr. Wang is experienced with managing patients with irregularly-shaped cornea due to keratoconus, corneal scarring, ocular trauma, post-LASIK ectasia, and post-corneal transplant. She is fluent in two Chinese dialects: Mandarin and Fuzhounese.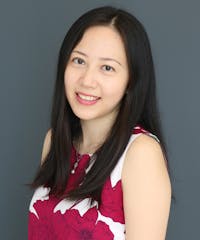 Education
Dr. Wang completed her Bachelor degree at New York University and graduated at the top of her class as an Honors Scholar. She then proceeded to earn her Doctorate degree in Optometry from State University of New York College of Optometry. During that time, she completed extensive training in glaucoma, macular degeneration, dry eye management, and pediatrics.
She then continued on to complete a residency in Cornea and Contact Lens at State University of New York College of Optometry. That year, she was appointed Assistant Clinical Instructor in Contact Lens Clinic.
Recognition
She has earned numerous awards including Alcon Award for Outstanding Case Report, Alcon Academy of Eyecare Excellence, Cornea/Contact Lenses and Refractive Technologies travel fellowship award, and Founder's Day Award. She has presented continuing education lectures and posters at scientific meetings such as the Global Specialty Lens Symposium and the American Academy of Optometry.
Dr. Wang is a member of the Gas Permeable Lens Institute (GPLI) resident advisory board, Optometric Society of New York, and the American Academy of Optometry.