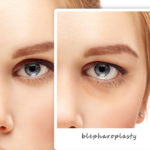 Blepharoplasty Can Restore Your Face's Youthful Appearance
With time, the skin loses its elasticity, with the eyelids often being the first to show signs of aging. The eyelids begin to stretch as the muscles responsible for supporting the lids begin to weaken. This results in sagging eyebrows, drooping upper lids, and large bags beneath the eyes caused by excess fatty deposits. Along with making the face appear tired, sad, and older, such sagging can reduce one's vision, especially in the upper and outer parts of the visual field.
Dr. Giyaur specializes in both upper and lower blepharoplasty Brooklyn surgery. She has an outstanding reputation in restoring a youthful appearance to the eyes, improving the overall attractiveness of the face, and increasing self confidence.
Eyelid surgery, known as blepharoplasty includes the removal of excess skin, muscle, and fat to repair drooping and sagging lids. In upper blepharoplasty, incisions are made in the natural creases of the eyelids to remove excess skin and fat while adjusting muscle tissue. This eliminates the sagging skin that causes drooping lids that may impair vision and reduces the puffiness of the upper lids. In lower blepharoplasty, incisions are hidden inside the eyelid and excess skin of the lower lid is removed. This eliminates loose skin, puffiness, and bags underneath the eyes.
Recovery from blepharoplasty may take up to a few weeks. The recovery process varies between patients. Initial healing may include some swelling, bruising, and discomfort. Medications and cold compresses are included in the healing process to maintain patient comfort and reduce irritation.
If you are considering blepharoplasty, call us at 718-676-6464 to schedule your consultation. We will provide a thorough exam to ensure you are a proper candidate for surgery and answer any questions you may have about the procedure.
Tagged with: Blepharoplasty Brooklyn
Posted in: Blepharoplasty Brooklyn