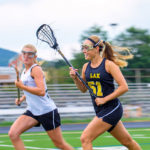 The Importance of Sports Eyewear
September is Sports Eyewear Safety Month!
Sports cause over 40,000 eye related injuries, 90% of which can be prevented with the use of protective eye wear.
High-risk sports use a ball, puck, bat, stick or racquet, or they involve body contact. Some high-risk sports are baseball, basketball, hockey, football, lacrosse, tennis and other racquet sports, fencing and water polo. Very-high-risk sports involve body contact and do not use eye protectors. Some very-high-risk sports are boxing, wrestling and contact martial arts.
Sports related eye injuries include blunt trauma (when something hits the eye), penetrating trauma (when something cuts the eye), and radiation injury (when UV exposure causes damage to the eye).
Click here to learn more about eye injuries in sports.
Take the following precautions to prevent sports related eye injuries:
Wear proper safety goggles (lensed polycarbonate protectors) for racquet sports or basketball. In order to be assured that your eyes are protected, it is important that any eye guard or sports protective eyewear are labeled as ASTM F803 approved. This eyewear is performance tested to give you the highest levels of protection.
Use batting helmets with polycarbonate face shields for baseball.
Use helmets and face shields approved by the U.S. Amateur Hockey Association when playing hockey.
Know that regular glasses don't provide enough protection
We're encouraging all of our patients, both adults and children, to remember to protect their eyes. Sports related eye injuries can lead to irreversible damage that can be easily avoided!
Tagged with: eye exam, Eyes, Flashes, Floaters, health, ocular, Ocular Trauma, vision
Posted in: Brooklyn Eye Care, Ocular Trauma