Surgery for the removal of cataracts often involves a high level of precision. The removal of the affected eye lens and its replacement must be accomplished with an incredibly high level of care, and any steps that can be taken to improve the precision with which the procedure is performed can result in a more optimal outcome, with clearer, sharper vision for the patient.
Recent technological developments have resulted in the creation of a technology known as FLACS — or femtosecond laser assisted cataract surgery. This procedure, while largely the same as traditional cataract surgery, sets itself apart through the utilization of a femtosecond laser. This laser offers a higher level of precision and control, enabling the procedure to be performed with higher accuracy and a much lower margin for error.
New York Laser Vision offers femtosecond laser assisted cataract surgery, for the safe and effective removal of cataract-affected lenses and the restoration of full and complete vision. Reach out to us today, to learn more about how we might be able to help restore your vision to its former clarity with the use of femtosecond laser assisted cataract surgery today.
Cataract Surgery to Restore Clouded Lenses
At New York Laser Vision in Manhattan & Brooklyn, we offer cataract surgery which can remove these clouded lenses. The affected lenses are then replaced with something known as an IOL, or an intraocular lens. This lens can help restore your vision to its former fullness.
Standard lenses can allow the patient to see properly at a distance, but might require that glasses are worn for any up-close viewing. Premium lenses, on the other hand, can eliminate the need for any vision assistance down the line by allowing the patient to see clearly both up close and when viewing things at a distance.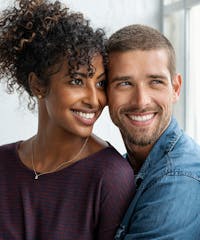 What Exactly Are Cataracts?
The lenses of your eye allow light to pass into your eyeball, and can become clouded due to any number of factors. Sometimes cataracts are caused by the aging process. Other times, they're caused by something like injury or medication. Some of the most common causes include:
Exposure to UV radiation
Aging
Injury
Illness
Medication
Whatever the cause may be, cataracts involve the clouding-over of the lens that sits at the front of your eyeball, resulting in vision that looks as though you're looking through a clouded piece of foggy glass. Some of the more common symptoms include:
Hazy vision
Blurry vision
Halos around lights
Poor vision at night
Poor vision around bright lights
A yellowish tint to your vision
Femtosecond Laser Cataract Surgery
Remove the Potential for Human Error
While cataract surgery is a mostly painless procedure, there's no denying that it's one which requires an incredible level of precision and care. Femtosecond laser assisted cataract surgery (also known as FLACS) removes the human element from this particular equation, instead allowing a laser-guided computer system to take control over the procedure.
The result is a much higher level of precision, results that are much more exact, and far less presentation of risk for damage to any nearby tissues. Our commitment to technologically-advanced procedures and equipment mean that you can enjoy the safest, most state-of-the-art vision restoration treatments available.
If you've been suffering from cataracts and are considering surgery to correct them, reach out to New York Laser Vision to learn more about femtosecond laser assisted cataract surgery, also known as FLACS. By providing a safer, more precise and exact treatment, FLACS can restore your vision to its former clarity, while also providing you with the peace of mind you deserve.