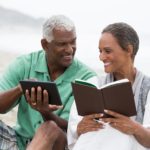 Cataracts can significantly decrease your quality of life. They get in the way of the transmission of light through the lens of the eye, producing decreased vision, increased sensitivity to glare, loss of vivid colors and a variety of other symptoms.
Cataract Surgery in Brooklyn
Cataracts become concerning when vision is greatly affected. However, it is largely up to you as the patient to decide when you are ready for cataract removal. In the early stages of cataracts, a new prescription for eyeglasses may benefit your visual acuity. However, when new glasses can no longer improve your symptoms, it is time to consider cataract surgery.
Cataract surgery involves removing the lens of the eye and replacing it with an artificial lens called an intraocular lens (IOL).
An IOL may be monofocal, to address vision at a singular distance. Patients will continue to rely on corrective eyewear to read or to see objects afar. Mulifocal lens implants, as well as accommodating IOLs and Toric lenses can be a better option, making eyeglasses completely unnecessary. Speak to your ophthalmologist about which option IOL is best for your visual demands.
Why Laser Cataract Surgery?
Laser vision correction for cataracts is a relatively quick and painless procedure. Additionally, it is more accurate than traditional cataract surgery. When you come to see our team in Brooklyn, we will thoroughly explain the benefits of laser cataract surgery.
I'm Ready for Cataract Surgery. Now what?
If you've considered cataract surgery and are ready for the vision you need and deserve, visit Dr. Julia Giyaur at our Brooklyn Cataract Surgery center. After a thorough eye exam and a comprehensive consultation to discuss your options, we can schedule your surgery. Contact our team today to schedule your consultation to learn more about your options for clearer vision.