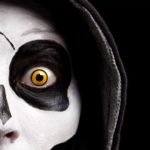 Halloween Contact Lenses – Is Your Vision Worth It?
With Halloween around the corner, the demand of decorative contact lenses increases for patients looking to perfect their Halloween costume. With decorative lenses being widely popular, it is important to know the variety of risks associated with using these lenses.
Contact Lenses are NOT "One Size Fits All"
Contact Lenses are fit to each patient individually. It is important to have a valid prescription from your eye doctor that specifies brand and lens measurements that are specific to your eyes. A poor fitting contact lens can result in discomfort, corneal abrasions, corneal infections, corneal ulcers, conjunctivitis (pink eye), decreased vision, and loss of vision.
Decorative Lenses have tested positive for harmful chemicals.
Decorative contact lenses are often not FDA approved. Contact lenses not approved by the FDA may be made with materials that can harm the eyes. Researchers from Japan have found chlorine and other harmful chemicals in three types of non-prescription decorative contact lenses. Chemicals may come from colorants used to tint and create playful patterns on the lenses. Such chemicals can induce irreversible damage to the corneal resulting in terrible infections, eye diseases, and potential blindness.
Where Not to Buy Contact Lenses
Contact lenses should only be bought with a valid prescription from your optometrist or ophthalmologist. Never buy contact lenses from street vendors, boutiques, flea markets, websites that do not require a prescription, and novelty or Halloween stores. Retailers who sell Halloween contacts but don't require an Rx are selling them illegally. Don't trust illegal sources!
This Halloween, ditch the special contacts or make sure to get a prescription from your eye doctor. Your eyes will thank you!
Tagged with: allergies, allergy testing, astigmatism, blurry, Cataract, cataract surgery, contact lenses, contacts, decorative contacts, dry eyes, eye allergies, eye care, eye exam, Eye Protection, eye surgery, far sighted, Flashes, Floaters, get rid of glasses, glasses, glasses prescription, glaucoma, halloween contacts, hyperopia, macula, near vision, New York eye doctor, ophthalmologist, optometrist, retina, vision, Vision Correction
Posted in: Brooklyn Eye Care