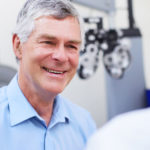 Let's Talk Eye Health and your Control over the Future
Wouldn't it be nice if we could mold our future to look exactly as we would like? The truth is, this is a possibility in many more ways than one. We can plan and prepare for a cozy retirement. We can guard our health with good eating and exercise habits. We can also maintain a certain amount of control over our aging process, including our vision, when we arm ourselves with information.
Many people don't think about what their vision will be like 10 or 20 years from now. Some of the most common eye conditions are generally regarded as a consequence of aging. However, there are risk factors for such conditions that are more related to what we do now than our genes. Let's look at a few . . .
Cataracts
To get a cataract means that the lens of one or both of your eyes has lost its flexibility. The lens becomes stiff and thick as proteins accumulate on the surface. As a result, vision may not be quite as sharp. Over time, it may become cloudy. Ultimately, the presence of cataracts could mean legal blindness, at least until the clouded lens is removed and replaced with a synthetic intraocular lens. One could just "wait and see" if cataracts develop, or she can take matters into her own hands and lower risks such as:
Hypertension
UV exposure
Diabetes
Macular Degeneration
Like cataracts, macular degeneration is a common eye condition that is often associated with age. This condition is related to the deterioration of the macula structure at the back of the eye. The macula is part of the retina that enables you to see directly in front of you. Macular degeneration, then, can affect your central vision. Though peripheral vision remains, severe macular degeneration can ultimately cause significant vision loss, to the point of legal blindness. Lifestyle factors associated with this eye disease include:
High-fat diet (unhealthy trans-fats)
Obesity
High blood pressure
Smoking
Research suggests that, of all the risk factors associated with macular degeneration, smoking is most significant. Putting an end to a smoking habit can be extremely beneficial to long-term eye health.
Your Brooklyn ophthalmologist, Dr. Giyaur can help you address concerns related to vision and eye health. Call 718-676-6464.
Posted in: Brooklyn Eye Care