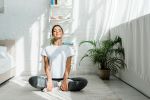 Meet Our MediSpa
Juno MediSpa is a medical spa that started off as an ophthalmology practice about 15 years ago, founded by Julia Giyaur, MD. Since then, it has become a reputable medical spa wherein Dr. Giyaur has performed thousands of cosmetic procedures, including eyelid lifts and eye microsurgeries.
Dr. Giyaur's keen understanding of facial anatomy, coupled with her years of experience, makes her ideally suited to provide a wide range of cosmetic services dealing with the delicate facial tissues. Her exceptional educational and training background allows her to confidently provide a wide array of facial cosmetic treatments, using the latest and safest state-of-the-art medical devices.
Juno MediSpa believes every individual is beautiful — their goal is to restore or highlight the beauty we already contain within ourselves, making it shine on our face. They restore the youth and beauty lost to age, sun exposure, pollutants, or just plain exhaustion.
Armed with a keen understanding of beauty and facial symmetry, they understand just the right notes to hit — tighten a few pores here, add a bit of volume in some other places, scrub a little here, dab a little there, and voila! You're looking at a much younger version of yourself!
They do all of this while maintaining the best customer care experience, truly embodying the "spa" in medical spa.
Cosmetic Services
Juno MediSpa provides a wide array of cosmetic services, tailored to address various highly-specific needs and cosmetic goals, suitable for people of all ages and skin types — as long as you're over 18.
Their cosmetic treatments are suitable for both men and women — since men are increasingly embracing beauty and taking pride in themselves, Juno MediSpa provides modified versions of their cosmetic services targeted towards men.
Since cosmetic treatments aren't eligible for insurance coverage, there's a significant financial barrier to their affordability. However, Juno MediSpa frankly and openly discusses financing options to help you afford your self-care services.
Juno MediSpa provides cosmetic treatments for the face, hair, eyes, chin, lips, neck, hands, arms, legs, abdomen, etc. Whatever your cosmetic goals are, they've got you covered. The following is an overview of their cosmetic services arranged according to treatment areas.
HAIR:
EYES:
Brow Microblading/Permanent makeup
LIPS:
NECK:
Non-Surgical Tightening

Kybella
TOTAL FACE:
Dermal Fillers

Botox

Aesthetic Facial Balancing

Non-surgical rhinoplasty

Acne scar treatment
ARMS:
Arm Wings Treatment

Skin Tightening

Bra Fat reduction
HANDS:
Rejuvenation / Volume restoration

Skin discoloration treatment

Radiesse for hands
ABDOMEN:
Circumference Reduction/Laser Lipolysis

Skin Tightening

Muffin Top Reduction

Stretch Marks Treatment
LEGS:
Lipolysis/Circumference reduction

Skin Tightening
There used to be considerable stigma around cosmetic treatments, and people seeking cosmetic enhancements were seen as vain. But such stigmas don't exist anymore, or at least not to the same extent. We all just want to be happy and content in life, in our personhood, and in our choices. And if making these cosmetic enhancements makes us feel a little better, and if we have the liberty and means to do so, then why not?
Anyone who knows me, even remotely, knows that I'm all about self-confidence and self-love, and just living your best life; I literally couldn't have been happier for the last quarter of a century. I'm also a huge advocate for being happy in your own skin, but that doesn't mean you have to tolerate certain features you just happened to have been born with when you have safe means of modifying them.
Safe being the operative word, of course.
I get that it's scary putting your health, beauty, and skin in a medical professional's hands — but that's why research is crucial! Whenever you're considering a medical spa, talk to people who've been there, or read up on blogs like these, just so you know that people have actually been there, and enjoyed the services, and walked away safely, rocking youthful skin that's gonna turn eyes down the streets.
Visiting Juno MediSpa
Juno MediSpa is a gorgeous and luxurious spa that just screams professionalism the moment you walk through their doors. When I entered the clinic, I was greeted by a friendly receptionist who introduced me to Dr. Giyaur.
We discussed my tendency to constantly look exhausted and sleep-deprived, which, as it turns out, is a genetic feature. I've gotta' say, I absolutely love my genes, and I honestly thank God that my parents blessed me with such beautiful skin and features, but my perpetually-exhausted skin is just one feature that I can't change, no matter how much I regulate my diet, exercise, or sleep — which isn't as much as I'd like because I'm a working woman with a toddler. If anything, I've realized that exercising regularly makes me look even more tired because the hollows under my eyes occur due to a lack of fat tissues under the eyes!
Anyway, Dr. Giyaur recommended a Radiesse Facial filler, which honestly transformed my skin, and I'm so happy with the results. From these pictures, you can see how the hollows under my eyes seem filled and, well, voluminous! It's a subtle change, but it makes all the difference because I no longer look exhausted! I started with a minimal treatment, but I intend to keep going to the clinic periodically over the next year, making a few tweaks here and there to achieve my aesthetic dreams!
Brief Intro to Skin Structures
Here's a brief intro to skin structures for those who don't know why we start looking old as we age. As we grow older, our skin's collagen and elastin production gradually slows down — in combination with other factors like genetics, environmental condition, sun exposure, etc. — leading to sagging skin and wrinkles.
Your body's ability to produce collagen drops significantly post-30, followed by a steep decline due to the gradual aging of collagen-producing cells. The loss of collagen is also followed by a loss of bone structures around the eyes and jawline, especially if you have dental problems. As the face loses its volume and plumpness because of all these factors, you start developing wrinkles, creases, and fine lines.
All of the cosmetic services mentioned earlier target different aspects of this aging process, be it collagen loss or volume loss, making you look refreshed and younger. If you're unsure where to start or which cosmetic procedure you need, schedule a consultation with Dr. Giyaur to better understand your skin, and collectively decide upon a suitable procedure!