By Julia Giyaur, MD
Many of my patients who come for cataract surgery have been wearing glasses for distance, near or bifocals for years prior to getting cataract surgery. A lot of them are very intrigued by the idea that they might be able to take off their glasses forever after cataract surgery. I love the fact that I can give my patients clear vision by getting rid of their cataracts and at the same time make them glasses free! This is one of the things that makes my profession as an ophthalmologist so rewarding.
What determines whether you will need glasses after cataract surgery?
The short answer is – your choice of lens implant will determine how you see after cataract surgery.
In this article, I would like to discuss the choices of lens implants that are currently available to us in the US and to answer some of the more common questions that my patients ask.
Why do I need a lens implant after cataract surgery?
A cataract is a natural lens of the eye that has become cloudy with time. The only way to get rid of a cataract and to start seeing better again is to remove that lens. The procedure to remove the lens, cataract surgery, or phacoemulsification is done in an ambulatory setting; it takes normally about 10-15 minutes to complete and is done under local anesthesia. We remove the cloudy lens and place an artificial lens implant that will help your eye focus after surgery.
Lens implant options: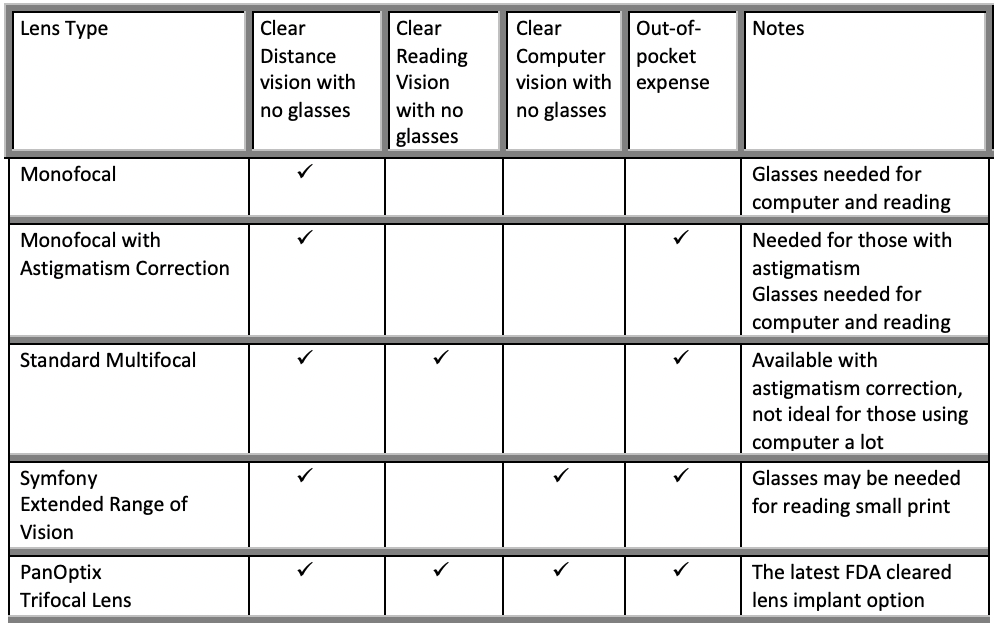 How do I decide what lens choice is right for me?

I am here to help you make the correct decision that you are comfortable with. There are some who have been dreaming of getting rid of their glasses for years, and yet there are others who find that glasses are fashionable or help them hide some unsightly under eye wrinkles. There is no one right answer. Some of you looking at the table above might have their "aha" moment and decide what's the right choice for them. Most of the time in my practice my patients make their lens choice after a consultation with me.
Our pre-operative consultation is designed to figure out not only what your eye's needs are but also what your particular likes and dislikes, demands, lifestyle and desires are. All your hobbies, jobs, interests, and particulars of any eye conditions you might have are taken into account. It is very common that by the end of that session, the choice of the lens implant becomes clear to the patient her/himself.
What if I can't afford a premium lens?
The good news is that any lens that you end up selecting will be a high-quality FDA approved lens implant that has been tried and tested multiple times. You are likely to be very happy with your surgery no matter which lens gets implanted.
We do offer several financing options that are affordable and interest-free for those who desire to explore that option. However, as I always tell my patients, the lens choice has to do with whether or not you will have glasses after surgery. It definitely has nothing to do with the quality of surgery. Everyone who gets cataract surgery at New York Laser Vison gets the highest quality of surgery, the highest quality of lens implant and the highest quality of care.